It was the best of weeks. It was the worst of weeks.
But like every week, The

Nutgraf

is here to make it better. Or worse.
Who is Yes Bank's White Knight?
Yes Bank is going through a really weird time. It's been in some trouble for a while, but like a knight saving a princess from a castle, it looks like a saviour is finally here to rescue it.
It's not that evident now, but we may be witnessing the most important event that will shape the future of the Indian FinTech industry.
How?

It begins, like all fairytales do, when everything was fine.
In a kingdom far, far away…
A long, long time ago, specifically—a little over a year back, in August 2018, Yes Bank was in a great position.
It was India's fourth largest private bank by revenue and was led by Rana Kapoor, its co-founder and CEO since 2004.
It had a strong foothold in India's corporate banking, with a growing presence in retail banking.
It had clocked revenues of nearly Rs 25,000 crore (~$3.5 Billion) that year.
It had never had a quarterly loss in its history. For 14 years.
And its biggest advantage was… PhonePe
Yes Bank had a formidable presence in United Payments Interface (UPI) transactions because it had partnered with a huge UPI player–PhonePe.
In the previous quarter, Yes Bank claimed to have 140 million UPI transactions, amounting to Rs 29,000 crore (~ $4 Bn). And a market share of over 20%.
The company had a registered user base of 50 million UPI users.
I can't stress this enough. If you are interested in FinTech, Yes Bank controls a key cog of the digital payments chain.
Strategically speaking, it's a very important company.
Stock Price in August 2018 : Rs 393. An all-time high
But something lurked in the shadows
While all looked good on the surface, Yes Bank had a problem.
It had made some bad decisions around loans and had a big bad wolf on its balance sheet called NPAs (Non-performing assets). That wasn't a problem. Every bank in India has NPAs. The problem was that Yes Bank was a little less… forthcoming about it.
So here's how it works
The RBI recognised that banks were giving bad loans. It didn't know how many bad loans were given. So the RBI did an asset quality review (AQR) independently and asked banks to report loan divergences, i.e., the difference between the RBI's assessment of bad loans and that claimed by the bank.
What did Yes Bank's divergences look like?
In the year ending March 2016, it was Rs 4,176 crore ($600 million).
In the year ending March 2017, it was Rs 6,355 crore ($900 million). This was three times what Yes Bank had initially reported.
"Loan divergence is mere account jugglery and these things are not taken lightly by the regulator when exposed," said an analyst with a domestic brokerage house, requesting anonymity. "Sometimes banks extend loans to genuinely restructure a loan. At other times, it is done only to delay recognising a problem."
Never a good idea to piss off a central bank.
So when Yes Bank's board sat down in September 2018 to extend Rana Kapoor's term, their CEO of 14 years, the RBI sent them a message. No. Not this time.
Like a schoolteacher scrawling on a report card, they gave three reasons to the board :
Weak compliance culture in Yes Bank

Weak governance In Yes Bank

Wrong asset qualification
And in one fell swoop, Rana Kapoor was out.
Yes Bank had to find another CEO.
Stock Price in September 21st 2018 : Rs. 227.
Exiled to the enchanted forest
While everyone who owned Yes Bank's shares was losing their minds and the stock price fell by 50% off its high, let's follow Rana Kapoor. In the months after his exit, what did he do?
Did he make a huge public fuss about it? No.
Did he give a tell-all interview and confess to more shady stuff? No.
Did he blame millennials taking Ola and Uber rides for his situation? No.
Instead, like a champion, Rana Kapoor used his shares and raised debt. Not from banks. Not from NBFCs. But from… mutual funds. Public mutual funds. Which has your savings and mine.
How much? Oh, around Rs 1,800 crore (~$250 million).
Perhaps you are thinking, 'Wait a minute. I don't know much about corporate finance but I didn't know you could do that'
Well, technically you can. But the unusual part was the manner in which it was done. Rana Kapoor raised money from these mutual funds, who happily gave it to him with very little security. He didn't even have to pledge his shares for it.
"Yet retail investors probably have no idea they're the ones financing Kapoor's diamonds, on the basis of debt covenants as fluffy as cotton candy. These are essentially unsecured loans to private investment companies, not suitable for mutual funds."
What did he do with the money?
He invested it into a private finance companies. All owned by his family.
In essence, he raised unsecured debt and converted it into equity.
I can't stress how unusual this is.
"There's no law that prohibits the use of debt disguised as equity, but it is considered imprudent by risk managers and regulators. This is more so in the case of finance companies which in general are more leveraged than manufacturers.
If Rs 10 equity is used to borrow Rs 50 for subsequent lending, the equity acts as a cushion if there are losses. But if that Rs 10 itself is borrowed, then the ability to take losses is substantially weakened."
Meanwhile, Yes Bank's stock price continued to fall.
The Fairy Godmother arrives
Now, let's go back to Yes Bank.
First, it found itself a CEO in January. Ravneet Gill, a career banker from Deutsche Bank, took over in March. And got to work. Its stock price went up.
The RBI checked Yes Bank's financials, and for the first time in years, declared that it found no divergence in the NPAs.
Yes Bank's stock went up by nearly 30%.
Finally, it looked like the bank had turned a corner.
Then, everything went downhill.
What happened? Two things.
First, the share of loans in Yes Bank's books which were rated BB and below—meaning loans of high risk, increased three-fold, to Rs 17,000 crore (~ $2.5 billion).
Second, in May, Yes Bank declared its quarterly results and, for the first time in 55 quarters, it reported a loss.
The stock price fell 30%. In one day.
By mid-May, it was down to Rs 134.
Yes Bank needed money to recapitalise.
The perfect glass slipper
From a time when everyone from Rabo Bank to Goldman Sachs lined up seeking a pie of the Yes Bank share, the management is chasing investors to convey to the world that it is worthwhile investing in it and they could ride the Indian growth wave.
Investors are saying 'No' to Yes Bank. UBS cut its target price. HSBC downgraded the stock. Macquarie has raised questions about the governance standards at the lender, which was touted as the modern day bank to fulfil the dream of a young generation.
There's a crisis of confidence.
It wasn't like Yes Bank didn't try. It raised $285 million through a Qualified Institutional Placement (QIP) in August. It just wasn't enough.
By 22 August, Yes Bank's share price fell to Rs 65.
Which led to another problem. Not for Yes Bank. But for Rana Kapoor.
Remember that money that he borrowed? That was against the price of Yes Bank's stock. Once it fell, provisions kicked in and the debtors started to demand that the loan be paid out earlier.
Consider the situation. Rana Kapoor needs money. And owns 10% of the company which he's ready to sell. Yes Bank needs money. And is also ready to part with 10%.
In other words, potential buyers have not one glass slipper but two.
Which brings us to the events of last week.
One of the world's top three technology companies. With an interest to control a bank that's a gateway to one of the most important FinTech companies in India.
Microsoft? Amazon? Samsung? Apple? Facebook?
Your guess is as good as mine.
Debt leads to strange outcomes.
Which brings me to our regular segment…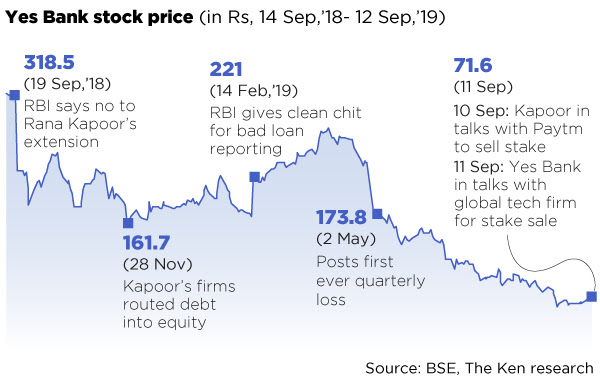 Last week in Softbank. Last Softbank in We
We are swiftly learning that if you invest $10 million in a company, the investor owns the company…but if you have invested $10 billion, the company owns the investor.
Remember WeWork? Like we wrote in The

Nutgraf

last week:
Basically, SoftBank has two choices :
Launch the IPO. SoftBank acts as an anchor investor. To do this, it needs to invest a big chunk of the $3-4 billion WeWork intends to raise.

SoftBank invests money into WeWork right now and delays the IPO until next year.
More developments happened last week.
First, WeWork announced its intention to IPO on the NASDAQ last week, after making some governance changes. This, after reports that Softbank isn't that keen on an IPO.
Second, WeWork is seeking a valuation of $10-12 billion—a steep fall from the $47 billion that Softbank valued it at in its last round. Even this looks optimistic. As Aswath Damodaran, professor of finance at NYU Stern, and probably the world's leading expert on valuation, wrote:
"…what should terrify investors is that even the $15 or $20 billion equity values require stretching the assumptions to breaking point, and that there are a whole host of plausible scenarios where the equity is worth nothing.
In fact, there is an argument to be made that if you invest in WeWork equity, you are investing less in an ongoing business, and more in an out-of-the-money option, with plausible pathways to a boom but just as many or even more pathways to a bust."
WeWork needs money. It can either do an IPO. Or take money from Softbank. Softbank, which is trying to secure Vision Fund-II, said no to both. WeWork needs the IPO—even at a fraction of its original valuation, because that unlocks $6 billion in debt financing. And the CEO, Adam Neumann, could care less, because he's made his money already.
So while Yes Bank was selling debt to get equity, WeWork is selling equity to get debt.
Remember, there was a time when Softbank wanted to invest more into WeWork, even take a controlling stake. It had to be talked out of it by the Saudis, one of the biggest LPs in its Vision Fund. Now Softbank has either given up, is trying to cut its losses, or doing both by just shrugging its shoulders and trying to move on.
A $10 billion shrug. Because Softbank has no option. Imagine.
You know things are getting weird when the Saudis seem like the only ones who are making sense.
A saga of tax slabs and perverse incentives
No two sectors capture the essence of India's decelerating GDP growth better than automobiles and biscuits, both of which we've covered in earlier issues of The

Nutgraf

.
From our 10 August issue, "Dude, where's my car"
Layoffs have accelerated. According to Reuters, automakers, parts manufacturers and dealers have laid off about 350,000 workers in the last four months.
Plants are being shut down. All major automakers—Ashok Leyland, Maruti Suzuki, Tata Motors, Mahindra & Mahindra and Honda—have temporarily closed plants to cut production in the past few months.
Stock prices are down as well, nearing or exceeding 52-week lows.
And from our 24 August issue, "Seven deadly sins"
Now Parle-G says that sales are dipping…
…and they may need to let go of 10,000 employees—around 10% of its workforce.
Britannia, another competing biscuit brand, has seen its sales growth halved due to a slowdown, and is doing a range of actions to change the situation.
If people aren't buying biscuits anymore, and they aren't buying cars anymore, things are starting to look grim up and down the economic value chain.
It's been impossible to ignore news about these two sectors for the past many weeks now. Well, it worked. This was the lead story in yesterday's The Economic Times:
The Goods and Services Tax (GST) Council could lower levies for sectors such as automobiles, biscuits and other fast-moving consumer goods (FMCG) at its September 20 meeting, said people with knowledge of the matter. It could also discuss raising the lowest slab of 5% to as much as 8%.
The automobile sector wants GST rates on passenger vehicles to be cut to 18% from 28% now. […] Parle, Britannia and other biscuit makers have pitched for a reduction in GST from 18% to 12% to bring them on par with unbranded varieties.
The government is now in a terrible bind. Because other industry sectors, emboldened by the (apparent) success of automobile and biscuit makers, are competing to highlight their economic misery in the media, hoping for a reduction in their tax rates too. Worse, every cut reduces the amount of taxes the central government and states collect, forcing a rejigging of other rates to make up for lost revenue.
But why do you think this is happening? I mean, India isn't the first country to implement a unified business tax like the GST, right?
From a report [PDF, 122 pages] by The World Bank last year.
The GST has different tax rates-0, 5, 12, 18, and 28percent. […] Comparing the design of India's GST system with those prevailing internationally, we note that the tax rates in the Indian GST system are among the highest in the world.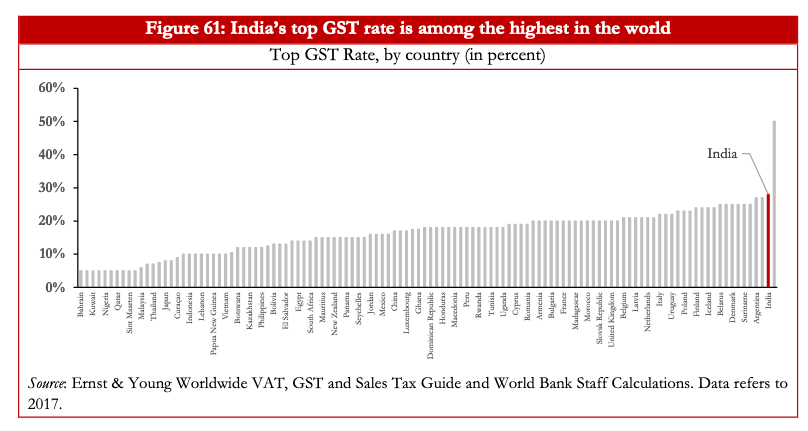 Most countries around the World have a single rate of GST: 49 countries use a single rate, 28 use two rates, and only 5 countries including India use four rates. The countries that use four or more rates of GST include Italy, Luxembourg, Pakistan and Ghana. Thus, India has among the highest number of different GST rates in the world.
A dual rate structure with a low standard rate and an additional higher rate on select items can be progressive and preserve revenue neutrality, while streamlining exemptions would further contribute to progressivity and reduce compliance and administrative costs, the IMF recommended.
That is exactly what the ruling BJP had promised before winning its second term. But till such time they get around to doing it, expect more competitive plight rendering.
What : The Fifth Season by N.K Jemisin
What is it : A fantasy novel. It's the first part of a series called The Broken Earth.
It won the Hugo award—the highest prize for science fiction and fantasy for Best Novel in 2016. So did its sequel. And the next one. Three awards. Three years. Never happened before.
This is the way the world ends. Again.
Three terrible things happen in a single day. Essun, a woman living an ordinary life in a small town, comes home to find that her husband has brutally murdered their son and kidnapped their daughter. Meanwhile, mighty Sanze — the world-spanning empire whose innovations have been civilization's bedrock for a thousand years — collapses as most of its citizens are murdered to serve a madman's vengeance.
And worst of all, across the heart of the vast continent known as the Stillness, a great red rift has been been torn into the heart of the earth, spewing ash enough to darken the sky for years. Or centuries.
It's brilliant. A story with deep themes around racism, climate change, identity and magic…lots of magic.
With a great twist at the end.
That's it from me this week.
Do you like The

Nutgraf

? Do you think it can be better? Or do you have ideas?
Better yet, would you like to write it yourself?
Super. Email me. We are hiring. For a full-time role. Send me a resume and a cover letter. If we hire you, it's yours. You will be the editor of The

Nutgraf

.
Get The Nutgraf in your inbox
Sign up for a free account