Welcome to The Nutgraf – right now the only place that hasn't published an explainer about Article 370 in India.
Most of you know what The Nutgraf is about. For our new subscribers who joined us last week from companies like Flipkart, Unacademy, Google, Saif Partners, Bain, Teach for India, IIM Ahmedabad and Credit Vidya, think of this newsletter as your personal Marie Kondo for all the news of the week. We throw out everything, keep only what matters, and hope to land a series on Netflix shortly.
It's like you are always stuck in second gear
Some bad news first. Auto manufacturers across India released their sales numbers for July. There's really no other way to say it – things look pretty grim.
When the rain starts to pour
Nearly every single manufacturer registered a fall in sales. Across segments. Across vehicles. Across car types.
When it hasn't been your day, your week, your month…
This is the ninth

consecutive month where sales have been lower than where it was last year.
In July, sales fell by 31% as compared to the previous year. The previous sharpest fall was 24.6%, back in November 2008. In the midst of a global recession.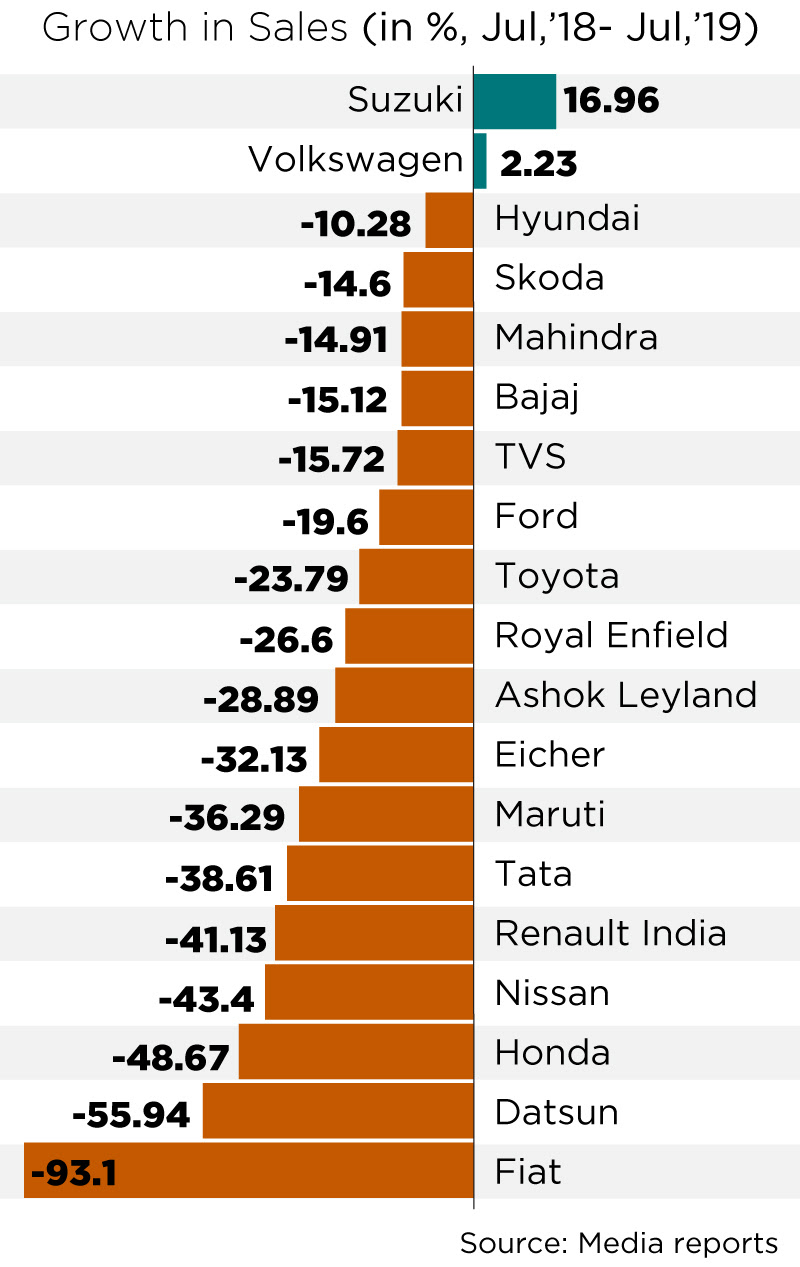 Your job's a joke, you're broke
Layoffs have accelerated. According to Reuters, automakers, parts manufacturers and dealers have laid off about 350,000 workers in the last four months.

Plants are being shut down. All major automakers—Ashok Leyland, Maruti Suzuki, Tata Motors, Mahindra & Mahindra and Honda—have temporarily closed plants to cut production in the past few months.

Stock prices are down as well, nearing or exceeding 52 week lows.
There are signs that the government is starting to take this seriously. Last week, all major automakers met Finance Minister Nirmala Sitharaman. This was the first meeting between policymakers and manufacturers about this crisis. As Business Standard reported,
According to a source, the government wanted to understand from the industry about the reasons of the ongoing slump in demand and possible solutions to the problem. He said that the heavy industries ministry was supportive.
Automakers want four things:
(Like I've been there before)
There are some things that this government has been doing in the auto-sector. Like a push to make everybody go electric as soon as possible. And to do this, they have done four things:
Automakers are trying to meet these goals. But it would help if the government had clear, coherent EV policies to begin with. Which it doesn't.
And if the country has the right talent to help make it happen.
It doesn't look good, but let's see how it unfolds
.
The creeping socialism of fintech continues
Last week, the Reserve Bank of India (RBI) did something huge with the Bharat Bill Pay System (BBPS).
I'll explain what, but first, some background.
It started with payments.
Remember when the only way to send money to someone in India was through bank transfers?
The banks charged fees for it, ostensibly to support infrastructure costs (and make a profit). Then UPI (United Payments Interface) came in and changed all that. A common platform. So anybody could create an app, link to it, and start making payments to anybody. For free.
…but bill payments is a different game.

It's one thing to want to transfer money to a friend or to pay for your Swiggy order. It's a whole other thing to do bill payments online. That's because it requires two types of integrations:
Billers to agree to an intermediary. Utility providers such as Tata Power and Maharashtra State Electricity Distribution co. should be willing to pay a platform to accept payments.

Banks need to integrated. So, customers could pay their bills straight from their savings account.
This is hard. It would be stupid to try this out. So one company did. It's a company called BillDesk. It went to one utility provider after another, integrating them bit by bit, step by step.
It took BillDesk 15 years to do this.
And it has been rewarded. Last year, BillDesk reported a profit of Rs 148 crore (~22 Mn) on revenue of Rs 929 crore (~140 Mn)
Oh, and it's valued at $1 billion.
Two years back, the National Payments Council of India (NPCI) came up with a system called Bharat Bill Pay. It's exactly like UPI, but for bill payments. One interoperable platform for all billers.
By doing this, it made bill payments into a commodity. As Arundhati wrote in an earlier story:
Till now, BillDesk was so deeply integrated with billers that billers hardly ever moved to a different aggregator. That made BillDesk nearly impervious to competition. But with BillPay, for the first time, BillDesk will come face to face with newer competitors such as PhonePe, Paytm and PayU. BillPay is of paramount importance to these fintechs, as all of them harbour lending ambitions and bill payments yield a wealth of user data.
So what happened last week?
Until now, Bharat Bill Pay supported just five categories of payments. Direct-to-home, electricity, gas, telecom, and water bills. BillDesk still had exclusive integrations with other recurring billers like mutual funds and insurance.
In a statement, the RBI said:
"In order to leverage the advantages of the BBPS and harness its full potential, it has been decided to permit all categories of billers (except pre-paid recharges), who provide for recurring bill payments to participate in BBPS on a voluntary basis"
You have nothing to lose, BillDesk, but your chains.
Softbank's Public Market Problem. And Private Market Problem
So SoftBank declared its quarterly results for its Vision Fund yesterday. It booked losses of nearly $1.84 billion. Which is…a lot, even for SoftBank.
Why? Well…because public markets. Actually, no. Because Uber.
Softbank's Vision Fund has investments in two types of companies.
First, companies like Uber and Slack who are public
SoftBank entered just before they did an IPO. At the time, it was hailed – with a phrase all too familiar in Indian politics, as a 'masterstroke'.
In June, when the quarter ended, Uber's stock was down 13% since the IPO. Which puts a hole in Softbank's balance sheet. A huge hole.
But no matter, because they made up some of it with Slack, which was up 44% back in June, and added $5.7 billion to Softbank's sheet.
But the problem is that these numbers are from June.
Since then, things have gotten worse
Uber reported its results yesterday. And said it lost more than $5.2 billion. The most ever. The stock fell 9% at the start of trading.
Slack's stock price has already fallen by 20% this quarter.
Second, private companies like Bytedance and OYO
In its results, Softbank listed gains from private companies. Notably two: Bytedance, which owns TikTok, and OYO.
Since gains in private company valuations tend to come only after funding rounds, we're likely to see few chances for its OYO stake to keep adding to the Vision Fund's paper profits. This means that Son needs not only to keep hunting unicorns, but find ways for his existing stable to get a valuation boost. SoftBank's bottom line depends on it.
I wonder why that sounds familiar.
Will the real OYOpreneur please stand up?
Time for something light-hearted. A puzzle.
Imagine this situation. There's a global, dynamic company, with an equally dynamic CEO. Last year, the company appointed a respected, notable, industry stalwart – let's call him Aditya, as the CEO of India and South East Asia.
Last week, this company made two announcements:
If you have ever worked in a global company, actually, any company – it's pretty clear what's going on.
But I'll leave it as an exercise for the reader to figure out for herself.
An IIT professor gives WhatsApp a solution
…but WhatsApp doesn't even agree with the problem.
WhatsApp is fighting an important case at the Madras High Court in India. The case is about introducing traceability into WhatsApp, so that law enforcement in India can track the originator of messages.
The petitioners of the case originally brought this because one of them faced bullying on Facebook, which owns WhatsApp. Now they want the court to mandate that users link "any email or user account" to their Aadhaar numbers or any other form of identification.
WhatsApp is taking this seriously
It has hired two of India's highest-profile lawyers, one of whom is India's former law minister Kapil Sibal.




It has also sent Brian Hennessy, its main legal counsel to the hearing. All the way from Menlo Park.
WhatsApp is arguing that introducing traceability is a silly idea because:
It can be misused to target people who say uncomfortable things or are critical towards those in power.




Personal information can be publicly exposed.




Users will move to another platform which is encrypted and send what they want anyway.



That comes as a gentleman named V Kamakoti, a professor at the Indian Institute of Technology Madras and a member of India's National Security Advisory Board. As Buzzfeed reported:
Mr. Kamakoti's proposal, which is part of the Indian government's report submitted to the court, said that WhatsApp could attach the original sender's phone number to every message, which wouldn't require it to break encryption but would allow law enforcement agencies to track down the sender if they wished to.
Clearly everyone missed the point. WhatsApp doesn't need to be told how to trace messages. After all, it's owned by Facebook – who know a thing or two about tracking users.
WhatsApp is saying it won't do it.
A new form of exercise called ViPR. Which is apparently the rage in Delhi.
Once again, Ruhi told me about it.
ViPR stands for Vitality. Performance. Reconditioning.
"It sounds like a school motto, Ruhi…"
Nonsense, said Ruhi. Let me tell you what it is. From the website:
ViPR bridges the gap between movement and strength training. It combines full-body movement with load, enhancing the vitality, performance and reconditioning goals of athletes. ViPR introduces a new concept in fitness and sports conditioning
Ruhi, are you selling me ViPR, I asked.
"No no. It is a lot of fun. It's all natural movements. Like swinging an axe…or a sword"
Mental note to be nice to Ruhi at the offsite.
That's it from this week.
What did we miss? Let us know.
Also, are you liking The Nutgraf? Are we getting better? I hope so. We took your suggestions, so if we aren't, you only have yourselves to blame.
Get The Nutgraf in your inbox
Sign up for a free account