Facebook's swimming with the sharks
Something interesting happened last week at Facebook.
The Verge published two hours of leaked audio from internal meetings where Facebook CEO Mark Zuckerberg addressed his employees back in July.
I know everyone gets excited when they see the word 'leaked', but really, it isn't nearly as bad as it sounds.
For starters, company all-hands meetings are usually boring, scripted and almost never controversial. Facebook has thousands of employees. Enough for anyone, including Zuckerberg to be sufficiently guarded. Some reporters made a big deal of some of the stuff he said, like how he'd challenge rulings for breaking Facebook up in court. But really, these are quite tame, and expected.
But he did say two interesting things. Both of which are about India.
The first was a question about Libra, Facebook's planned cryptocurrency.
"There's a bunch of other regulatory news this week. I mean, we had a couple of folks in DC on different hearings. [Facebook VP of messaging products] David Marcus talking [about] Libra and the work that we're doing there. We basically put out this big idea for enabling through our networks, through WhatsApp and Messenger, the ability for people to send money hopefully as easily as you can send a photo or other content across the world to different folks. But we want to work with traditional currencies. So we have a test going in India…The hope is to get that rolled out in a lot of places with existing currencies before the end of this year."
Of course, we know that he's talking about WhatsApp's integration with UPI to enable Indians to make digital payments. This has nothing to do with Libra. But even if it did, things couldn't be going worse for Facebook – both around UPI and Libra. And not just in India.
Also, guess where David Marcus used to work before Facebook? PayPal. How embarrassing.
But the more interesting part was what he said about TikTok.
In response to a question about TikTok's popularity, this is what Zuckerberg had to say
It's growing really quickly in India. I think it's past Instagram now in India in terms of scale. So yeah, it's a very interesting phenomenon.
And the way that we kind of think about it is: it's married short-form, immersive video with browse. So it's almost like the Explore Tab that we have on Instagram, which is today primarily about feed posts and highlighting different feed posts. I kind of think about TikTok as if it were Explore for stories, and that were the whole app.
He then goes on to explain how he'll counter TikTok. Using a new product.
So we have a number of approaches that we're going to take towards this, and we have a product called Lasso that's a standalone app that we're working on, trying to get product-market fit in countries like Mexico, is I think one of the first initial ones.
Facebook's trying to counter TikTok exactly how it tried to counter Snapchat. Try to do something independently. Abandon it. Copy blatantly and integrate into the core app. This worked in their favour against Snapchat, especially with Instagram stories but TikTok is a different game altogether.
In fact, there's a good argument to be made that Zuckerberg has got it completely wrong. And that TikTok is nothing like the Explore tab on Instagram.
Even if he did, expect Facebook to get into trouble for it. Facebook is under antitrust investigation, and guess who is cooperating with the investigators? That's right. Snapchat. In fact, last week, the Wall Street Journal reported.
A number of Facebook's current and former competitors are talking about the company's hardball tactics to investigators from the Federal Trade Commission, as part of its broader antitrust investigation into the social-media giant's business practices, according to people familiar with the matter.
One of them is Snap Inc., where the legal team for years kept a dossier of ways that the company felt Facebook was trying to thwart competition from the buzzy upstart, according to some of those people. The title of the documents: Project Voldemort.
Let's not forget. TikTok is having problems of its own in India which Facebook will inherit. There's concerns about data storage, moderation, and much more. And seemingly anything TikTok does gets them into more trouble.
It really isn't worth it, Mark.
Plus, as Rohin says, if Facebook is Philip Morris, Lasso is like Juul. So be warned.
After the leak, Facebook did something unusual. It broadcast its all-hands to the world. Zuckerberg answered questions, was noticeably less robotic, and seemed to enjoy himself.
At the end of the all-hands, he showed a video of Facebook's users, some with disabilities, following their dreams—one of which was swimming with sharks.
Zomato had a blockbuster year. But how?
Zomato, the restaurant discovery unicorn, released an interim report showcasing its performance over the last six months. It has the usual stuff. Business Performance. Customer Happiness. People. Sustainability.
Now, Zomato has never released such a mid-year report in its history, so it's likely the only reason it is doing so now is because the numbers are great. Plus, Zomato has been taking some heat of late–across the board, both from restaurants and delivery partners, so if you are doing well, you might as well talk about it and change the narrative.
Some numbers do look impressive. For instance, for H1 FY-2020 as compared to H1 FY-2019, Zomato claims the following.
Overall revenue is up 225%

Orders are up 290%

GMV is up 223%
Look, it's pretty clear that Zomato had a monster H1. Most of this was likely driven by expansion into new geographies rather than fundamental changes to its business, but still…growth is growth.
However, some metrics are cleverly presented.
Take, for instance, the very first graph.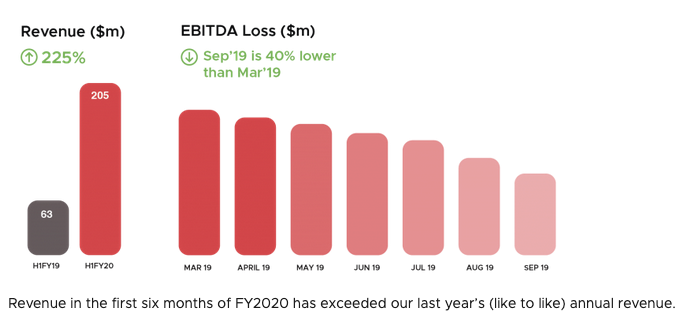 Notice how the losses are shown right next to the revenue? At first glance, you might even be tempted to conclude that revenue outstrips losses—because the EBITDA loss graph does not even have an axis—so you have no idea about the number in March 2019 in the first place. Also, note the colour fade from left to right. Very smartly done.
Also, an important claim made by Zomato is that the number of restaurants on Gold increased after the logout campaign.
At the start of the 'logout' campaign, we had ~6,100 restaurants in India on Zomato Gold (for Dining Out); as of today, we have ~6,300 restaurants in India on Gold (for Dining Out).
However, checking Zomato's website for the number of listed Gold restaurants on two dates—21 August—when The Ken published a story, and yesterday, reveal the following.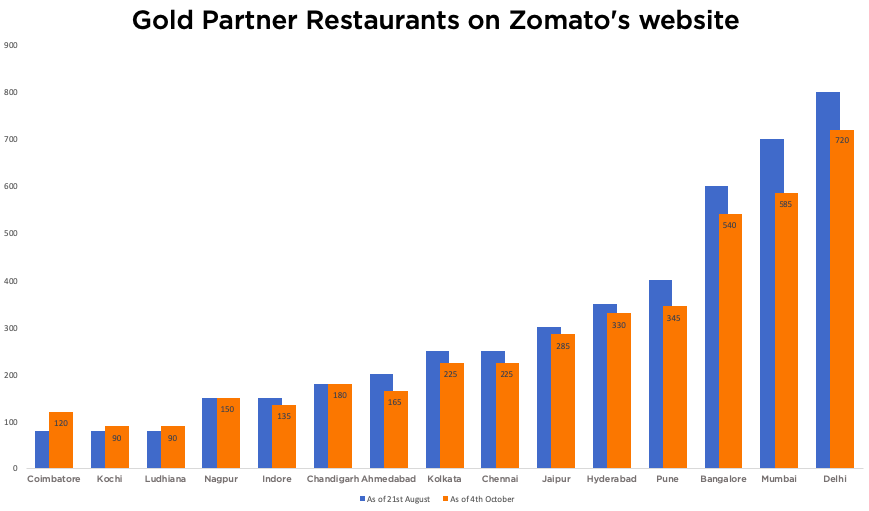 Okay so two things emerge.
The total restaurants is closer to 4,500 back in August. For the same cities, that number is now ~4200.

In nearly every city, there are fewer Gold restaurants today than there were back then. Not by much though.
We wrote to Zomato to check how this happened, and here's their explanation:
In Zomato's search results, chain outlets are displayed once—i.e., 15 outlets of a restaurant in a city account for only one search listing. This accounts for a difference of 950 outlets.

Depending on the day of the week, there are about 50-100 outlets which are "temporarily off" for multiple reasons.

Not all Gold restaurants are shown to a user, depending on their preferences.

New restaurants have a ramp-up and a test period, so they take time to show up on the website.



Zomato added twenty-five more cities to Gold since August. That's 1,100 more restaurants.
Like I said – expansion into new geographies.
Two supervillains merge. To sell you worse ads
Taboola and Outbrain are probably merging into one company. This is how it ends. Embrace us, sweet Mother Death.
If you aren't sure what I'm talking about, Taboola and Outbrain are two of the worst companies in the world. You've certainly encountered their work, even if you never registered who was behind it. Remember what you see when you scroll down a page, typically on news sites, and encounter a "recommended" grid of clickbait content? Usually titled 'Promoted Stories'? That's either Taboola or Outbrain.
Not only do they peddle stuff that's popular in the fringes, they also aren't known to hold back. Take for example, the story of Matthew Logelin, an author, who lost his wife.
Here's what Matthew Hughes wrote on The Next Web:
After Logelin's wife died in tragic circumstances, several content mills repackaged his story into hyper-monetized nuggets of content, which was pushed across the Taboola network. As Logelin traversed the internet, he was constantly being confronted with his most painful moment.
Here's what Logelin told Alex Goldman, host of the Reply All podcast:
So the one that I saw this morning on an ad on Page Six as I clicked through some shitty, like, entertainment article was: "Wife Dies and the Next Day Husband Clicks Through to Her Pregnancy Blog and dot dot dot" — it's that kind of thing. Or "The Day After Wife Dies Husband Finds Her Secret." Or something kind of crazy like that, which none of that was true.
Install an ad-blocker, if you haven't already.
Poor SoftBank's troubles seem to only be getting worse.
First, post the WeWork IPO debacle, SoftBank is having some hiccups raising Vision Fund 2. As Reuters reports,
Major investors have yet to sign on, leaving a $38 billion pledge from publicly traded SoftBank Group itself as the only large commitment, according to the sources. And the size of that pledge may itself be in doubt given some of the recent investment setbacks it has suffered and the lack of available cash on its balance sheet, according to a Reuters analysis.

Nearly everyone who had committed to the Vision Fund are hmming-hawwing, or just giving strange statements.
Back in July, SoftBank said a group of companies, including technology behemoths Apple Inc and Microsoft Corp, as well as a slew of Japanese banks, and Britain's Standard Chartered Plc would contribute to Vision Fund 2. But it is unclear how firm those commitments are, and none of the corporate investors have a track record of making multi-billion-dollar commitments to an outside venture fund.

Where do these players stand according to Reuters?
The Japanese banks are putting in small amounts, and at least one plans to offer this as a loan.

Nomura Holdings, the Japanese bank, has decided not to put any money into the fund. Nomura, let me remind you, is the principal lender that financed OYO founder Ritesh Agarwal's purchase of shares in his company.

Saudi Arabia's Public Investment Fund (PIF), which put $45 billion to the first Vision Fund, does not have cash, at least not until its Aramco IPO happens. Which could take years.

The United Arab Emirates' Mubadala fund may invest, but will seek more control.

Microsoft, Apple and Standard Chartered declined to comment.
Speaking of SoftBank, one other thing worth reading:
A tweet from Ali Al-Salim, a Kuwaiti investor and advisor.
A lot of people sat up and took notice of this. One of whom was Chamath Palihapitiya, CEO of Social Capital—the guy who led Facebook's Growth Team. He wrote, "SoftBank Vision Fund is essentially running a Ponzi scheme if this is true…"
If you haven't figured out why, let me explain.
Imagine I am a VC. You are a person rich with oil money. You give me $100 to invest in a company. I say I can guarantee I will pay you back $7 every year as interest. It's a sweet deal. Anyone would take it. Only upside and no downside? Except, the only way I can do that is if I take the money that other investors give me and I pay you with it, instead of investing it into companies.
That's a Ponzi scheme. It generates returns for early investors by acquiring new investors.

Sumanth has written a lot about Ponzi schemes about a company you may have heard about, which I recommend you read to understand this better.
What is it : A book about everyday, practical inventiveness, designed for the constrained times in which we live.
This week's suggestion was given to me by Omar, who handles customer activation and engagement at The Ken. I asked him why this book, and he said:
"This book is how different businesses have transformed limitations (of skills, money, time, space) into advantages. There are interviews, case-studies, and examples. It changes the way you look at constraints in business. And in life."
Time to give Omar more work.
Maybe even ask him to write emails blindfolded.
Don't forget, we are now online. Tell your friends about us. Ask them to sign-up.
See you next week. Have a wonderful Pujo until then.
Get The Nutgraf in your inbox
Sign up for a free account