I'm back. Back from two weeks in lovely Morocco. Beautiful country. 
Huge thanks to Rohin who helmed The Nutgraf while I was away. He usually has more important things to do, so I appreciate him taking the time out for this. This isn't common. It'd be like if Softbank took over operations of one of their portfolio companies in the absence of… wait a minute.
Now, as we do every Saturday morning…
Let's dive in.
---
Five Point Palm Exploding Heart Technique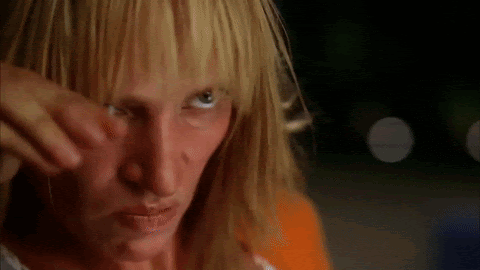 Perhaps you know what the Five Point Palm Exploding Heart Technique (FPPEHT) is. If you don't, let me explain. 
(No, don't be alarmed. It has nothing to do with that other Five Point thing. Calm down. Breathe)
There's this thing in martial arts called the Touch of Death. In essence, it's a technique that's supposedly used to kill someone using quick, otherwise non-lethal force targeted at specific areas of the body. Shrouded in secrecy and replete with legend, the Touch of Death attacks pressure points in the body "to incapacitate or cause immediate or even delayed death to an opponent". 
Nobody even knows if it's effective but let's assume it is. Like air purifiers in Delhi.  
The Five Point Palm Exploding Heart Technique is a type of Touch of Death made famous in the movie 'Kill Bill'. In it, a person is hit on five different pressure points on the body. After the person moves and takes five steps, their heart explodes and they die. Gruesome.
I don't think anybody is going to die, but last week, the Indian economy was hit on five different, crucial pressure points. 
Five blows fell in five days. India's business newspapers could scarcely keep up.
On Monday, the tax collection numbers trickled in
The Income Tax department has a problem. It's not getting enough taxes. 
And it's across multiple tax categories. 
Corporate tax grew by just 0.5%

between April to October as compared to the previous year. The plan, according to the budget, was for Corporate Taxes to go up by 15.4% as compared to the previous year. Of course, a big chunk of the shortfall is attributable to the corporate tax cuts that occurred a couple of months back.

Personal income collection grew by 5%

over the same period, against the year's target of 22.4%.

Direct tax collection touched Rs 5,20,000 crore

, which is just 39% of the year's target. To meet the goal, the income tax department will need to expand its collection rate by 30%. 
This leaves the I-T department with two options. Either get more aggressive with tax collections. Or ask for targets to be cut. 
Right now, the I-T department is getting…mixed messages. 
As Reuters reported,
"Prime Minister Narendra Modi's government wants them to collect 17% more in direct taxes this year as New Delhi seeks to shore up revenues amid a sharp economic slowdown. The target has been maintained even though Modi recently approved a massive cut in corporate taxes, which are part of direct taxes, and warned officers not to harass businesses in their drive to collect revenue.
Over a dozen tax officials interviewed by Reuters said they are stuck between a push to meet unrealistic collection targets, which influence their appraisals and transfers, and the fear of being accused of over-zealousness if they crack down on evasion."
So what's the I-T department doing, now that it's stuck between a rock and a hard place? 
A little bit of both. 
On one hand, it's getting creative with its definitions of what's taxable. This week, they conducted preliminary enquiries to find out if they could levy a 18% GST (Goods and Services Tax) on CXO salaries. 
I am not even going to try to explain the I-T department's reasoning, but suffice to say, taxing income as a service is…a stretch, you'd think. 
And lawyers agree. As the Economic Times reported, 
"The interpretation adopted by the tax authorities is that an employee of an organisation should be considered as an employee of a particular office only (not the organisation as a whole) for GST-related purposes. Such an interpretation is legally and factually incorrect," said Rohit Jain, partner with law firm ELP.
On the other hand, the I-T department is desperately trying to bring down their targets. And not by a small amount. 
As the Business Standard reported, 
"We are expecting a cut of at least Rs 1 trillion in the Budget target for direct tax collection to bring it closer to the ground realities. Economic slowdown has severely affected our mop-up, and corporation tax cuts have made the target further unrealistic," said a government official. 
On Tuesday, the industrial output numbers were released
How does one measure the health of industries? 
The way India does it is through something called the Index of Industrial Production (IIP). Just like a stock market index, the IIP is represented by categories like manufacturing, consumer durables, capital goods, and so on. 
In good times, the index trends upwards. Occasionally, one or more categories may be down, either due to seasonality or due to cyclical demand, but overall, it's usually growing. 
In July this year, for instance, the index was up by 4.6%.
In August, it was down by 1.4%. This was an 81-month low. The thinking at the time was that this was probably an anomaly, and things would be back on track the next month once the September numbers were released.
It was released on Tuesday.
In September, the index was down by 4.3%.
All thanks to one sector—manufacturing, which accounts for 78% of the index.
Why is this worrying? Because it's clear that nobody believes this is an anomaly. Least of all, manufacturers, who didn't even bother to boost production output before the festive season in October.
"September, the month before the festive season kicked in, saw production of consumer durables contract for the fourth-straight month. Production contracted by 10 per cent, up from 9 per cent in the previous month. The negative growth baffled economists who said e-commerce sales in October was very high and should have been on the back of positive growth in this segment.
Crucially, the consumer non-durables category slipped into contraction for the first time in FY20, with production thinning by 0.4 per cent. "The sequential worsening in the performance of consumer durables and non-durables in September belies any hopes of a pre-festive restocking of inventories," Aditi Nayar, principal economist at ICRA, said."
To explain what happened on Wednesday, here's Rohin.
On Wednesday, an entire sector raised a flag of surrender
Hope is a wonderful thing. It keeps you going in the face of adversity. It is so powerful that it can reshape the reality around you, so you see hope where others only see despair. Like Vodafone-Idea in India all these years, even in the face of quarterly results that looked like this.
But everyone reaches a breaking point. Reservoirs of hope aren't endless either. On Wednesday, Vodafone must have realised that after posting the largest quarterly loss in India's history. A loss so gargantuan that the axis numbers in the above graph, with added data from the latest quarter, were no longer recognizable.
And that was how Vodafone, which owns 44.3% of Vodafone-Idea (27.6% is owned by Indian business conglomerate Aditya Birla Group), lost hope.
Vodafone-Idea's loss was triggered by the imposition of a massive $4 billion retrospective fine demanded by the Indian government and ratified by its Supreme Court last month. (We wrote about it in depth in an earlier issue of The Nutgraf). A fine that came atop existing debt of $14 billion.
At a press meeting in London, Vodafone CEO Nick Read threw up his hands.
"Financially there's been a heavy burden through unsupportive regulation, excessive taxes and on top of that we got the negative supreme court decision.
If you don't get the remedies being suggested, the situation is critical. If you're not a going concern, you're moving into a liquidation scenario — can't get any clearer than that."
A "going concern" is an accounting concept that assumes a private company has the financial resources to continue operations for at least the near future, usually at least 12 months. A company that does not believe it is a going concern is usually headed for operational disruptions, fire sales of assets and finally, a bankruptcy.
Thus, CEOs do not kid around with the phrase. Certainly not CEOs of global corporations like Vodafone.
In India, the mood in Vodafone-Idea's finance department must have been funereal when they added the following lines to the latest quarterly results.
"It is to be noted that our ability to continue as going concern is dependent on obtaining the reliefs from the Government as discussed above and positive outcome of the proposed legal remedy. Pending the outcome of the above matters, these financial results have been prepared on a Going Concern Basis."
This is company speak for: we're drowning, and if the government doesn't throw us a life preserver, we'll be sleeping with the fishes.
But it wasn't just Vodafone-Idea that was revisiting the concept of "going concern." Bharti Airtel, India's second largest private telecom operator, told stock exchanges it, too, had doubts about its future.
"This represents a material uncertainty whereby, it may be unable to realize its assets and discharge its liabilities in the normal course of business, and accordingly may cast significant doubt on the Group's ability to continue as a going concern."
That's after Airtel's quarterly earnings graph became this.
With 2 out of the 3 private telecom operators in the doldrums, India risked turning back two decades of progress in telecom, argued Sunil Jain in the Financial Express
"The other reason why Modi needs to listen to Read is that, once Vodafone Idea shuts down, India will be back to where it was in 1999 before the Vajpayee government ushered in India's telecom revolution. 
Prior to 1999, there were just two mobile services providers; while Vajpayee ensured unlimited competition was brought in, India could once again have just two players, RJio and Bharti Airtel (apart from BSNL-MTNL, provided the merger and VRS results in a viable firm). In which case, the government/Trai will be back to monitoring the industry closely to guard against cartelization, rigging prices and stifling innovation; each tariff plan will have to, once again, be cleared by Trai. Most governments and regulators attempt to increase competition to ensure the industry grows well, the Modi government will preside over the death of two decades of competition."
How did the Department of Telecom, the government department charged with "formulating developmental policies for the accelerated growth of the telecommunication services" react to this distress?
First it said, Oh, we're still working out the numbers, but Vodafone-Idea and Bharti Airtel better steel themselves for another 10% increase in their retrospective fines.
Then it requested the Supreme Court to prevent a merger between Bharti Airtel and Tata Teleservices (now defunct), because it wanted another Rs 8,000 crore (~$1.2 billion) from Bharti Airtel. The merger it was objecting to took place in October 2017.
Things ended on a good note though finally, with Vodafone CEO writing to the Indian government to proclaim that he is confident of the India growth story and that the country remains a key market for his company.
Vodafone meanwhile wrote down the value of its 44.3% shareholding in Vodafone-Idea to zero.
Then came Thursday. 
On Thursday, the inflation numbers came in 
If there was one thing that was working in the Indian economy's favour, it was this—inflation was on the lower side. In fact, it had been declining slowly and steadily for years. 
That ended on Thursday. 
As the Economic Times reported
India's Retail inflation for the month of October breached the Reserve Bank of India's (RBI) medium-term target of 4% for the first time since July 2018 due to higher food prices even though RBI had predicted that food prices "are likely to moderate as winter supplies enter the market".
Inflation is said to be a tax on the poor. Which in itself is bad enough. But there's a bigger problem. 
The good thing about keeping inflation in check is that it gives the RBI a very useful weapon to combat a slowdown—rate-cuts. 
With inflation going up, that weapon gets blunter. And difficult to use.
The Uptick in headline inflation and its subsequent breach of the Central bank's medium-term target might push RBI to put the breaks on its rate cut cycle in the next MPC meet that is scheduled for December 5.
To summarise the week so far:
Prices are going up

Industrial output is falling

Tax collections are down

The telecom sector is on the verge of collapse
Then came Friday. 
When things went from bad to…bizarre.
On Friday, the consumer expenditure survey results came out…and went away
So there's this organisation in India called the National Statistical Office (NSO). This is a government organisation that's a part of the Ministry of Statistics and Programme Implementation. 
The most important thing the NSO does is to go out and collect data. Periodically. Data about income. About consumption. About many other things. All of this data is used by the government of India to draft policy, design welfare schemes, target benefits, etc.
Cool? Cool. 
So there's one important activity that the NSO does called the Consumer Expenditure Survey. Every five years, it checks what people are consuming and where they are spending their money on. The last time this survey was done was in 2011-12. So the next survey results were expected to be released anytime.
It dropped on Friday.
Not from the government.
But was leaked by a journalist at Business Standard, Somesh Jha. 
What did it say?
Read it for yourself.
Consumer spending fell for the first time in more than four decades in 2017-18, primarily driven by slackening rural demand, according to the latest consumption expenditure survey by the National Statistical Office (NSO).
Experts said a dip in consumption expenditure indicated an increasing prevalence of poverty in the country. The data set also corroborates a shortage of demand in the economy, driven by the rural market.
The lowest in four decades. 
What happened next? 
A statement. 
"In view of data quality issues, the Ministry (of Statistics and Programme Implementation) has decided not to release the consumer expenditure survey results of 2017-2018. The ministry is separately examining the feasibility of conducting the next consumer expenditure survey in 2020-2021 and 2021-22 after incorporating all data quality refinements in the survey process" 
This means that India will not have an estimate on poverty levels for nearly a decade.
Is there anything to be optimistic about?
Well, I am not an economist, but perhaps the last week was where India hit the bottom. Maybe the worst is behind us. Maybe the actions taken earlier will start to kick in.
It's just one of those weeks where everything that could go wrong, did. 
Next up is Shreedhar, about a city called Amaravati.
---
Investments are subject to politics
Here's an interesting story.
Amaravati, the capital of Andhra Pradesh, was to be an exemplar for city development. The state government acquired a large swathe of land to build a city from scratch. The state's past track record, it has topped the Ease of Doing Business index for Indian states for years now, meant investors were brought on board, funding secured and a roadmap etched.
But then the Andhra Pradesh government changed. And with it so did Amaravati's fortunes. The city was deeply associated with the flamboyance of its former chief minister Chandrababu Naidu. So, his successor, Jagan Mohan Reddy, chose to quickly and steadily kill projects associated with Naidu.
This week, he cancelled a contract with a Singapore consortium which was to build an exclusive startup area in the new city. He also trashed contracts with companies for a new airport, two seaports and a mall in the state.
Earlier, the World Bank and the Asian Infrastructure Investment Bank withdrew separate loans totalling $500 million dollars.
A political powerplay affecting investments into what was to be a grand project could have a ripple effect across the state and country. The fickleness of India's state governments means that investors will have one eye on a party's political platform before pulling out the cheque book again.
And over to Jon, for…
---
Last Week in Softbank
What do OYO, Paytm, WeWork, Didi Chuxing and Grab have in common?
None are profitable—that's right—but there's more. These are SoftBank Vision Fund unicorns that have all made unlikely forays into the Japanese market.
It's no accident. SoftBank has a penchant for bringing portfolio companies to Japan, its home country and a place that its chairman Masayoshi Son has lambasted for an "underdeveloped" tech ecosystem.
"As I love Japan, I want to invest in Japanese companies but the reality is that there are no unicorn AI companies in the country," he said at a conference in July. Unsurprisingly, a glut of Son's Great Hopes have arrived—each entering through joint ventures with SoftBank, a move that gives the investor a greater say in operations.
OYO opened an initial 100 hotels in October; Japan is Paytm's first move overseas—it claims 10 million users over 10 months; China's Didi teamed up with SoftBank to take on Uber, a rival counts both among its investor bench. There's evidence the JV strategy contains a dose of magic. WeWork—the struggling co-working giant that saw its valuation fall from $40B to $10B following a canceled IPO—is said to be close to profitability in Japan. Yes, you read that right.
Now it's the turn of Grab. But rather than a JV, the Southeast Asian ride-hailer has arrived in Japan courtesy of Splyt, an innovative startup that connects ride-hailing services to enable users to 'roam' between countries. We've written about Grab's struggle to become profitable, and it'll no doubt hope that the sprinkling of Japanese pixie dust is both genuine and contagious.
---
That's it from me.
Don't forget, we are now online. You can find past issues of The Nutgraf there, and recommend us to friends.
Just share the link, tell others to subscribe.
Get The Nutgraf in your inbox
Sign up for a free account