Today's Nutgraf is special—because it's coming to you from Phuket, Thailand.
You see, all of us from The Ken are at our first international offsite. Bengaluru office, Delhi office and even Jon Russell, our Southeast Asia writer. Southeast Asia is a special area of focus for The Ken, so we figured, why not just do our offsite here? So while I watch Arundhati and Rohin's teams battle it out in an engrossing pool volleyball match, here are the most important things that happened last week.
Wrath : Five grams of biscuits
Now Parle-G says that sales are dipping…
…and they may need to let go of 10,000 employees—around 10% of its workforce.

So here's what happened. The Goods and Services Tax (GST) regime kicked in late 2017, and led to higher taxes on Parle-G products. Since margins are wafer-thin (literally!) at the price point that Parle-G sold its product, it was forced to reduce the grammage of their packet of biscuits from 70 grams to 65 grams. This might not seem like a lot, but that's nearly one whole biscuit less per packet. And sales fell by nearly 7-8%.
What people are worrying about is…
…that it's another sign that the economic slowdown is here. Britannia, another competing biscuit brand, has seen its sales growth halved due to a slowdown, and is doing a range of actions to change the situation.
If people aren't buying biscuits anymore, and they aren't buying cars anymore, things are starting to look grim up and down the economic value chain.
So what is the government doing?
It's assessing. And controlling information. As the The New Indian Express (TNIE) wrote yesterday:
"Taking notice of daily reports on job losses, the Union Finance Ministry has asked business chambers and industries to produce the exact number of job cuts to derive the correct picture of the economy. It has asked the industries to abstain from causing panic.
"There are a number of reports that talk of job losses, and mostly come through reports. This is creating panic. The ministry has asked the businesses to give the exact job loss figures so that the government can assess the actual state of the economy." a senior finance ministry official told TNIE."
Gluttony : Zomato and restaurants declare war
India's restaurant listings and food delivery unicorn Zomato finds itself stuck in one of the hardest places for a digital platform—distrusted by its customers on both the supply and demand sides. And the reason for that is, literally, gluttony.
You see, Zomato created a monster hit of a subscription product called Zomato Gold in India almost two years ago. It offered discounts—free dishes or free drinks—at thousands of participating restaurants provided customers "unlocked" those discounts via Zomato. It claimed to have over 1.3 million Gold customers worldwide.
Through Gold, Zomato had pulled off a feat for which there aren't many examples globally. It charged customers for a product whose benefits (discounts at restaurants) it didn't control (restaurants did). But if customers had a bad experience during a meal, the restaurant bore the risk of a negative review.
Heads, Zomato won (it got subscriber revenue and customer loyalty).
Tails, restaurants lost (because they sacrificed profit margins and bore the brunt of negative reviews).
It's a nice model, as long as you can pull it off. Because at some point, the restaurants will say "Wait a minute, this doesn't sound right."
This is exactly what happened last week as hundreds of restaurants (300 at first, then ballooning up to 2,000-plus) boycotted Zomato Gold by delisting themselves. It forced the normally cocky and social media savvy company to first semi-apologise, and then scale back many of the discounts or freebies it offered customers.
Which didn't budge the National Restaurant Association of India(NRAI), under whose aegis and leadership the campaign had come about.
The trigger for this boycott was Zomato's Infinity Dining, a program that allowed Gold users to eat virtually any items any number of times at a restaurant. Classic, old-fashioned gluttony.
But as Zomato winds down the discounts and freebies that defined Gold, it will face a newer set of pissed-off customers: Gold subscribers. Many have already started demanding their money back.
Will Zomato Gold survive this month?
Lust : Tumblr's post-porn firesale
Tumblr, the social network, got sold to Automattic, which owns WordPress, for an amount of ~$3 million last week.
This is a marked fall for Tumblr, which was bought by Yahoo for $1.1 billion back in 2013.
What happened? A lot. But one thing in particular.
In November last year, Apple banned the Tumblr app from the App Store over child pornography concerns. In response, Verizon—which owned Tumblr, decided that content moderation was a complex, nuanced problem, and just banned all adult content from the website altogether.
Normally, this would be a good thing, but it's a little more nuanced than that.
Brian McCullough, the host of the excellent Techmeme podcast—Ride Home, put it best back in December in his episode, "Tumblr bans NSFW (Not Safe for Work)…and dooms itself":
"If you are not familiar with Tumblr, you can think of it as the emo kid, the goth, the theatre kid in high school. The shy, sensitive, artistic, emotional kid among the high school kids of social networks. I don't have time to flesh out that analogy – like who Facebook represents (the jocks), or who Instagram represents (the cool rich kids)…but take my word for it, Tumblr has the most unique and the most uniquely expressive community of users of all of the social networks. And NSFW content has always been a big part of that in good and bad ways.
But Tumblr's community is also the most delicate, and easy to get wrong, so you'll also have to take my word for it. But I can assert with a high degree of confidence that this move will likely prove to be a death-knell for the Tumblr community as a going concern, or as we've always known it."
He wasn't the only one. It was patently obvious that Tumblr would never survive this. And it didn't.
However, now that Tumblr has a new owner, there was hope that the porn ban would be lifted. However, just after the sale was announced, Automattic CEO Matt Mullenweg tweeted: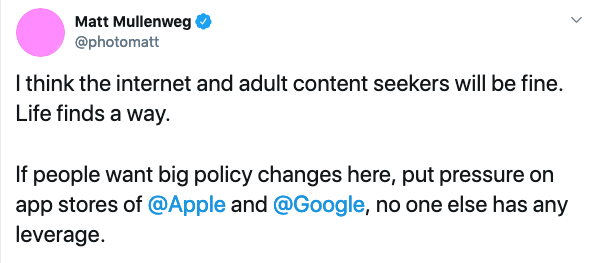 Speaking of acquisitions…
Envy : Walmart and Amazon's Dance of Dragons
So the rumours finally came true. Amazon bought a stake in one of India's largest retail chains—Future Group. It's an indirect purchase, and gives Amazon a 3.5% stake in Future Group. For now. With an option to increase its stake to 47% in the next 3-10 years.
Oh, let me remind you—Future Retail owns 33% of India's organised food and grocery market thanks to two supermarket chains: Big Bazaar and Nilgiris. That's a lot.
So why is this a big deal?
Because this is Amazon's third major investment in offline retail in India, after Shoppers Stop, and More.
Last year, the world's largest offline retail store, Walmart, bought India's largest e-commerce company, Flipkart.
This year, the world's largest e-commerce company, Amazon, just bought a stake in India's second largest retail company, Future Group.
The Dance of Dragons for Indian retail intensifies.
Speaking of digital transformation…
Sloth : Why use a debit card when you can use an app
In the near future, India's largest bank – SBI (State Bank of India) wants to get its customers to get rid of debit cards and use their mobile phones for withdrawing cash. A few days back, Rajnish Kumar, the chairman of India's largest bank said that he saw a future where debit cards could be eliminated:
"…it is our wish to eliminate the debit cards, and am sure we can eliminate them,"
A mobile app. Called YONO.
Which stands for—I swear this is true—You Only Need One.
The number of debit cards in India? Close to 900 million.
Good luck, SBI. Good luck.
Greed : Softbank lends to Softbank to buy Softbank
Meanwhile, in the SoftBank parallel universe, greed made an appearance. The WSJ broke down how SoftBank was planning to lend up to $20 billion to its own employees and founder Masayoshi Son so that they could invest that money in, wait for this, Softbank's Vision Fund II.
"Most investment funds simply give their employees a share of the profit as part of their compensation. Investors like to see such skin in the game.
But SoftBank is instead lending to staff—it has about 400 employees—to buy those stakes, charging around 5% interest and in most cases requiring little money down, said people familiar with the arrangement, which is likely to be completed in the coming weeks.
It did the same thing for the first fund, which now includes about $8 billion of employee money, those people said. The lending adds leverage to the Vision Fund's already risky investments and, if the fund struggles, would put SoftBank in an awkward position trying to collect from some of its most senior executives and could ultimately lose money."
Why is SoftBank doing this? Both because it can and because it must. The latter because the world is still awash in cheap capital which SoftBank can borrow (although every day brings forth news that suggests capital is getting less abundant and more expensive). And the former because SoftBank must fill its $100 billion-plus second Vision Fund before either investors feel the SoftBank magic is wearing off, or the global economy hits the looming recession iceberg.
You'd think it couldn't get weirder for Softbank's Vision Fund II in the same week, right?

Well software giants like Apple, Google and Mozilla employed sophisticated countermeasures to block a Softbank Vision Fund II investor from spying on their users using their Internet browsers? Yep. The government of Kazakhstan, ladies and gentlemen.
Pride : India's courts grapple with technology
Remember the entire WhatsApp-Madras High Court case from an earlier Nutgraf?
If you don't, let me refresh your memory. WhatsApp is fighting an important case at the Madras High Court in India. The case is about introducing traceability into WhatsApp, so that law enforcement in India can track the originator of messages, particularly for fake news. That wasn't the only one. There were cases filed at Bombay High Court and Jabalpur High Court as well.
Last week, WhatsApp had enough. And petitioned the Supreme Court to transfer all these cases to them, so that they don't have to fight multiple battles across India.
The Supreme Court held a hearing last week. And it led to some interesting exchanges between KK Venugopal, the Attorney General representing Madras HC, Kapil Sibal, representing WhatsApp, Mukul Rohatgi—who represented Facebook and the judges themselves. Sample the following:
Venugopal read from Kamakoti's submission that suggested that traceability was technically possible. As he read, Justice Gupta, in a moment of levity, said, "At least this part is Greek to me."
Venugopal drew the court's attention to the problem of Blue Whale challenge and how the government of India was struggling to find the perpetrator…Justice Gupta asked if Blue Whale challenge was circulated only through Facebook and WhatsApp.
Reiterating Dr Kamakoti's submission, Venugopal said, "Their [Facebook/WhatsApp's] case in [Madras] High Court is that they can't find the originator. But the IIT professor's submission proves otherwise."
At this, Rohatgi practically thundered: "Who is this IIT professor to tell us how to run the platform world over?"
I could go on. But you should read for yourself. Aditi Agarwal from Medianama did an incredible job of documenting the entire hearing here.
I asked Seema what the book was about. This is what she told me:
Epstein argues that people who have a broader training and keep multiple "career streams" open even as they pursue a primary specialty are more successful. They travel on an "eight- lane highway", rather than a single lane one-way street. They have range.
Take this excerpt from the chapter 'How the wicked world was made':
"A little training in broad thinking strategies…like Fermi-izing can go a long way…Fermi estimation can cut through bullshit like a hot knife through butter. It gives anyone consuming numbers, from news articles to advertisements, the ability quickly to sniff out deceptive stats. That's pretty handy hot butter knife."
That's it for this week. I will be off snorkelling at Phi-Phi island when you are reading this. Send in your feedback. Make us better. Special thanks to Rohin – who contributed a couple of sections to today's edition.
I'll go catch some clownfish.
Get The Nutgraf in your inbox
Sign up for a free account