It's been some week in India.
Taxes have been slashed. Plastic may be banned. Loan melas may be back again. Right now, I have nothing intelligent to add, so instead, today's lead story is about…e-cigarettes.
Two countries. Two bans. One winner.
In case you missed it, here's what happened.
Look, I get that there's a raging debate on whether this is a good thing or not. Some believe that e-cigarettes are a better option than cigarettes, so it's stupid to ban them. Others believe that the presence of e-cigarettes are a worse option to not having them around in the first place, so a ban is welcome.
Today's edition of The Nutgraf isn't about this debate.
Instead, it's about how regulations—even those made with the best of intentions—across two countries enabled one clear, indisputable winner.
But first, some context. It's relevant. I promise.
We make a place to sweat…
Let's jump back to 1998 in the United States.
Tobacco companies are going through a rough time. Lawsuits are piling up. Courts are passing multi-million dollar judgements against them. John Grisham had written his first novel about it a couple of years earlier. To make matters worse, even the state governments are suing tobacco companies, claiming that Medicare bills, which are paid for by them, are higher thanks to cigarettes. Tobacco-related healthcare costs, is what it's called.
So what do the companies do? They settle with the attorney generals of 46 states in the USA. They agree to scale back on advertising, especially towards youth, and promise to disband tobacco associations.
Oh, and they agree to pay.
$205 billion dollars. Annually, over the next 25 years.
This may seem like a good outcome, but a lot of people weren't convinced. Some believed it was far too lenient. And studies later showed that it didn't affect the tobacco companies much. On the other extreme was Robert Levy, chairman of the libertarian Cato Institute, who summed it up thus:
"For 40 years, tobacco companies had not been held liable for cigarette-related illnesses. Then, beginning in 1994, led by Florida, states across the country sued big tobacco to recover public outlays for medical expenses due to smoking. By changing the law to guarantee they would win in court, the states extorted a quarter-trillion-dollar settlement, which was passed along in higher cigarette prices. Basically, the tobacco companies had money; the states and their hired-gun attorneys wanted money; so the companies paid and the states collected. Then sick smokers got stuck with the bill"
The lawsuit was settled by four companies. Philip Morris. RJ Reynolds. Brown and Williamson. Lorillard. Philip Morris was the largest of the lot.
After the lawsuit, Philip Morris (later Altria) came up with a brilliant plan to avoid future lawsuits.
The best way to do this was to place tobacco under the Food and Drug Administration. This would allow the FDA to set the rules over manufacture, marketing and distribution of tobacco.
Philip Morris fought enthusiastically for this. And by a strange twist of fate, it bizarrely found itself on the same side as anti-smoking organisations like Campaign for Tobacco-Free Kids, who were advocating for the same thing.
This is a good time to ask why Philip Morris was fighting so hard to fall under the ambit of the FDA?
We had to find another place
I could explain, but this 2009 excerpt from the Wall Street Journal explains it best:
After 11 years, three presidents and millions of dollars in lobbying by worried cigarette makers, Congress is poised to put the tobacco industry under the regulation of the Food and Drug Administration.
Passage of the tobacco legislation will mark a big victory for Altria Inc., parent of Philip Morris USA, because it includes new restrictions on advertising and packaging that will make it difficult for other companies to gain attention for their brands.
Smaller companies such as Lorillard Inc. and Reynolds American Inc. contend that the legislation will create a new barrier of FDA red tape and make it difficult for anyone to introduce new products. The new rules, they say, will essentially freeze in place the dominance of Philip Morris and its Marlboro brand.
Lorillard even dubbed the bill "the Marlboro Monopoly Act."
The Marlboro Monopoly Act.
This was good, and safeguarded Philip Morris's future—in fact, smaller tobacco companies like Lorillard lost out, and were acquired not long after.
However, this came at a price. Philip Morris had to surrender a lot of control to the FDA. But there was one key concession made in the Marlboro Monopoly Act towards tobacco companies.
The bill doesn't allow the FDA to outlaw nicotine.
Back then, William Phelps, a Philip Morris spokesman, said the legislation would "create a framework for the pursuit of tobacco products that are less harmful than conventional cigarettes."
Now with this understanding, let's jump back to the present.
Last week, after the Trump administration announced its plans to ban flavoured e-cigarettes, implemented via the FDA, Juul, the e-cigarette giant, issued the following statement:
We strongly agree with the need for aggressive category-wide action on flavored products.
We will fully comply with the final FDA policy when effective.
That's it. That's the entire statement.
Why would Juul strongly agree to the ban?
For the same reason Philip Morris agreed to place itself under the FDA. Because more regulations always help the market leader. As of 2018, Juul has a market share of 72% in the United States.
"Juul has enormous resources to go through the regulatory process," said Robert Jackler, a medical professor at Stanford University and tobacco marketing researcher. "And so what Juul wants on one level is very stringent regulation to cut the riff-raff out of the market."
Let me end this on the most bizarre note of all.
Philip Morris, the biggest beneficiary of the Marlboro Monopoly Act, later split and renamed itself Altria as part of its rebranding effort.
Altria owns about 35% of Juul. It has invested $12.8 billion in the company.
But some stupid with a flare gun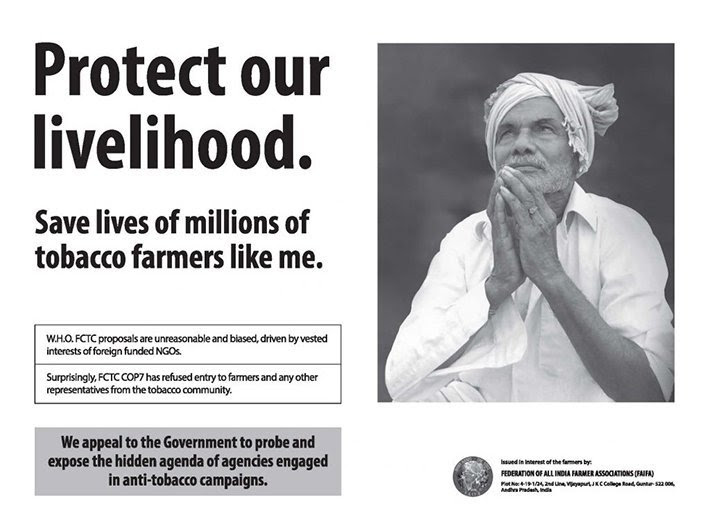 India has always been much more complicated. This is true for everything, but especially for tobacco. For the following three reasons:
There isn't an independent agency for tobacco. It's administered centrally by the Ministry of Health and Family Welfare, which is responsible for policy, implementation and monitoring. But it's also responsible for 'greater awareness about the harmful effects of tobacco use'. Same department. Unusual.

Tobacco is legislated through the Cigarettes and Other Tobacco Products Act, originally passed in 2003. This act restricts marketing, distribution and advertising of tobacco products, and specifies penalties for the same. It also defines the products the law is applicable to. These include cigarettes, cigars, beedis, chewing tobacco and even tooth powder containing tobacco.

The law says nothing about nicotine products. Not even the proposed amendments, which were initiated just last month.



The Indian government owns a big chunk of the two largest tobacco companies in the country. How much? 28% in one. And around 7% in another.
Like I said earlier, complicated.
…Burned the place to the ground
Now, the Indian government has never been a fan of electronic nicotine delivery systems (ENDS). Also known as e-cigarettes.
Since e-cigarettes didn't have tobacco in them, they weren't a tobacco product. This put them out of the purview of the Cigarettes and Other Tobacco Products Act. And in this weird nether-world absent of regulation.
So what did the Union Ministry do? Did it create regulation?
Hell no. Instead, it used some… creative methods.
First, it issued an advisory last year and asked states to ban ENDS under the Drug and Cosmetics Act. Essentially, it suggested that nicotine—the primary agent in ENDS—needed to be treated as a drug.
Nearly 14 states complied. Including Delhi, Maharashtra, Haryana, Uttar Pradesh and Gujarat.
So the e-cigarette makers went to court.
And won. In Delhi and Bombay at least, where both courts ruled that the Drugs and Cosmetics Act isn't applicable to ENDS, and that they don't fall under the category of drugs.
So the government figured…let's change that.
In June this year, it created a proposal, approved by the Drug Technical Advisory Board, where it classified all ENDS as a drug.
The Act has two sections (10A and 26A) that give the government powers to prohibit import or manufacture of any drug if it is satisfied that its use will involve risk to life or has no therapeutic value. So potentially, ENDS can be banned under this. "Even if it is not, the manufacturers will have to get clearance from the drug controller for the product, sell it only through pharmacies and after a doctor writes a prescription," says a senior executive of a leading ENDS manufacturer.
So e-cigarette manufacturers did the unthinkable. After years of claiming that they were an alternative to cigarettes, they now started claiming that they were on par with them. By doing this, they reasoned, ENDS couldn't be banned, because that would mean that tobacco—which also had nicotine, would have to be banned as well.
Tobacco players blame this strident move by the central government on misguided lobbying by some of the ENDS players. Their contention that e-cigarettes were a healthier alternative to regular cigarettes positioned the product as something of therapeutic value. "And now they are saying please treat it no differently from combustible cigarettes, it is as unhealthy. Then you have a problem," says a senior executive of a tobacco company.
Anyway, all of this is academic, because last week, the government passed an ordinance banning ENDS products altogether.
Shares of cigarette makers surged.
ITC's share price rose by 2.17%.
Others went up by as much as 9%.
On to FinTech, Arundhati has this to add in the next section…
RBI cuts off FinTech's access to credit bureau data
In a letter to banks and non-banking financial companies (NBFCs), RBI said non-regulated entities that work with banks and NBFCs cannot dip into consumer data held by credit bureaus to evaluate creditworthiness. Banks routinely use agents to acquire customers for loans. While the RBI's letter seems directed towards those agents, the fintechs digitally acquiring customers are no different than agents hawking loans. RBI's worry here was that the data ends up residing with third-party non regulated entities.
Given the claims the fintech lenders make, this diktat should not trouble them really. If anything, fintech lenders now have the chance to show what their artificial intelligence and machine learning can really do. These lenders have maintained that they can evaluate credit worthiness based on a variety of data—like your propensity to pay bills after its due date, whether you let your battery drain too often, the type of phone you use, where you live, how often you call your parents, the friends you keep, if the startup you work at is funded by SoftBank. Credit score was only one of the data sources, anyway.
These fintech lenders have two choices. Become NBFCs themselves. Which means in addition to raising VC money, they will also need to raise money from banks—who are less likely to swoon over AI and ML capabilities. Or they have to find a way where customers consent to give their credit score, like CRED, which rewards you for paying your credit card bills on time.
As for banks and NBFCs, which relegated the grunt work of customer acquisition to fintechs, they will now have to do it themselves.
In this section, we follow prominent updates to earlier events chronicled in The Nutgraf
Traffic Fines : The Resistance
In our earlier edition of The Nutgraf, we covered the effects of increased fines due to an amendment to the Motor Vehicles Act.
How's that working out? Have the increased traffic fines led to good outcomes?
Not really. Because others aren't convinced. Not just individuals. But state governments.
Turns out dumb laws are harder to implement. And unpopular. Or both.
After facing significant market pushback, WeWork announced that it was postponing the IPO. It still believes it will IPO by the end of the year.
Rana Kapoor sells 2.7% of his stake in Yes Bank. As the Economic Times reported:
"…said the proceeds will be used to prepay portion of outstanding non-convertible debentures (NCDs) of MCPL subscribed by various schemes of Reliance Nippon Life Asset Management Company"
Looks like the debtors came calling.
This week's recommendation for a book comes from Sameer.
What it isn't: A book that talks about current "upheavals" in the world, contextualising it and providing solutions to them
Picking up from where he left off in Guns, Germs and Steel, polymath Diamond presents a case about what a "crisis" is, how to identify one and how selective change can help address the crisis better.
Starting the book by talking about personal trauma and a professional moment of truth, he summarises the insights of crisis therapists into 12 factors. Later, he uses these to weave a narrative around how seven countries were able to address their respective crises better.
Here's an excerpt from the introduction to this book:
"It's neither possible nor desirable for individuals or nations to change completely, and to discard everything of their former identities. The challenge, for nations as for individuals in crisis, is to figure out which parts of their identities are already functioning well and don't need changing, and which parts are no longer working and do need changing."
It is an important read, especially in such rapidly changing times.
As always, have a great week.
Also, don't forget. We are still hiring.
Do you want to be the editor of The Nutgraf? Write in. Apply.
Get The Nutgraf in your inbox
Sign up for a free account